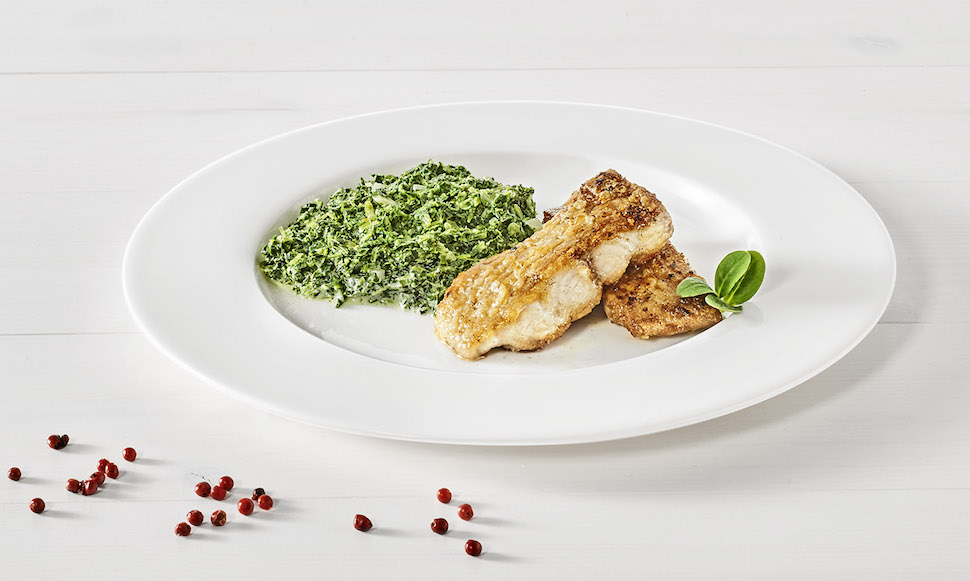 Ingredients
1.5 kg kale, frozen
100 g onions
sea salt
freshly ground black pepper
sugar
garlic
1.5 kg catfish
flour
50 ml rapeseed oil

Instructions
Preparation
Dice onions. Wash and clean or defrost the kale. Wash potatoes and cut in quarters. Coat the catfish with wheat flour.
The Catfish
In a large pan, fry the catfish for 2-3 minutes from both sides in hot rapeseed oil. Catfish with its firm flesh fries very well. For additional flavour, lemon zests and thyme can be added after frying. Simply add a piece of Oldenburger Butter, zests and thyme to the frying pan and pour over the meat. If the butter turns a little brown it makes it all the better – nutty brown butter has a delicious taste.
The Kale
Sweat the kale and diced onions in butter, add Oldenburger Chef's Cooking Cream, simmer and reduce until you achieve the desired consistency. Season with salt, pepper, sugar and some garlic.
The Final Touch
Place a piece of catfish on a dish and add the kale in cream. The perfect core temperature for serving is 62 °C. The contrast of colours and textures makes for a very attractive dish.

Tips from Chefs to Chefs

Sweating onion and kale in a generous portion of butter, brings out so much more more of the flavour of these vegetables. The fat acts as a flavour carrier.