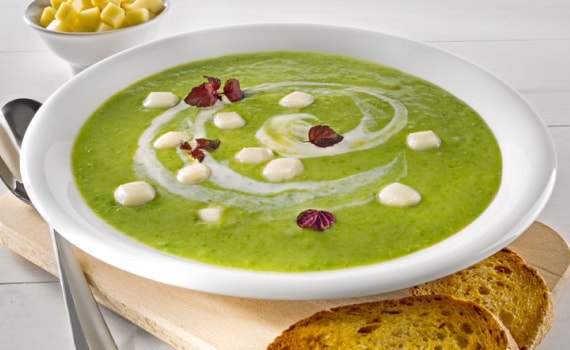 Ingredients
250 g onions

500 ml vegetable stock

750 g fresh peas

salt

pepper

a splash of lemon juice



Instructions
This soup made from fresh peas has a wonderful green colour – and delivers a taste of spring

Preparation
Peel and dice the onions. Grate Oldenburger Gouda. Cut Oldenburger Mozzarella into small cubes. Cut lemon in halves.
The Soup
In a large pan, melt the Oldenburger Butter. Add chopped onions and sweat until transparent. Then, add vegetable stock and Oldenburger Cooking Cream and bring to a boil. Add peas and simmer for about 10 minutes. Then, add grated Oldenburger Gouda and puree finely. Season to taste with salt, pepper and lemon juice.
The Final Touch
Pour soup in a dish and add some Oldenburger Cooking Cream in a swirl. Add a few pieces of the diced Oldenburger Mozzarella and serve with roasted bread.
Tips from Chefs to Chefs

01. Cooking cream will add a wonderfully smooth texture to any sauce.
02. Gouda may be the oldest kind of Cheese in the world which is still produced today. It has a mild and creamy taste.

03. Due to its short maturing time Mozzarella is a fresh tasting type of cheese.