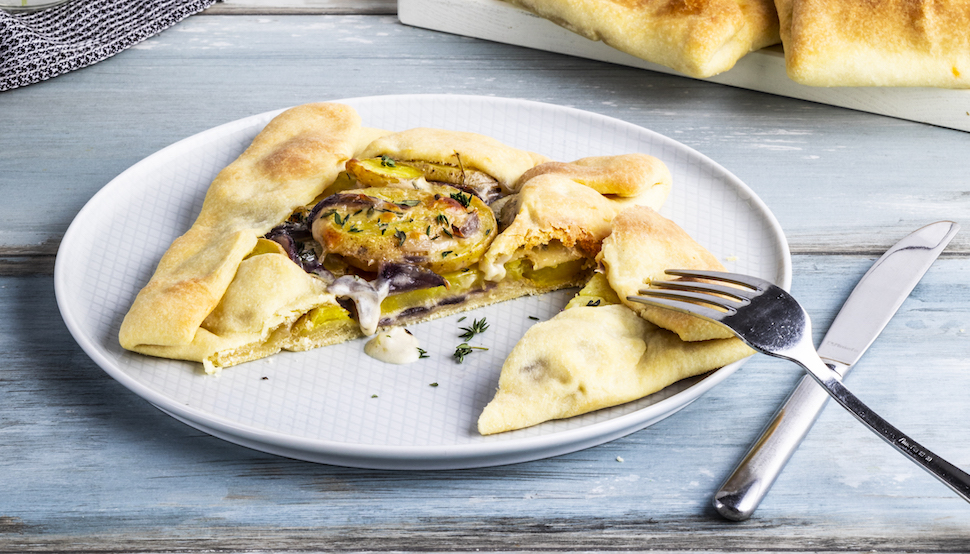 Ingredients
For the dough:
1.225 g flour (Type 405)
2.5 tsp salt
For the filling:
1.5 kg potatoes, floury
7 red onions
15 stems of thyme + a little extra for garnish
10 tbsp sunflower oil
salt
pepper
Instructions
Preparation
Peel and wash the potatoes, pat dry and cut into slices of approx. 0.5 cm. Peel onion and cut into slices. Wash thyme, shake dry and peel off the leaves. Preheat the oven (top / bottom heat: 200 °C / convection: 175 °C).
The Dough
Mix flour and salt in a bowl for the dough. Dice the Oldenburger Butter, add it to the flour and slowly mix with the kneading of a hand mixer. Gradually add Oldenburger Fullcream Milk and knead into a smooth dough. Then wrap the dough in plastic wrap and refrigerate for approx. 30 minutes.
The Potatoes
Heat oil in a pot and sauté the potatoes and onions for about 3 minutes. Add Oldenburger Chef's Cooking Cream and thyme and simmer over medium heat for about 10 minutes. Occasionally stir gently. Season with salt and pepper.
Preparing the Tarte
Divide the dough into four equal portions, then roll out each to a width of about 20 cm on a floured work surface and place on a baking tray lined with baking paper. Using a skimmer, place the filling in the center of the dough and then fold in the edges. Bake tartes on the middle rack of the oven for 20-30 minutes.
The Final Touch
Garnish with remaining thyme and serve hot or cold.
Tips from Chefs to Chefs

01. The floury potatoes release starch while cooking in the pot and thus bind the sauce directly.
02. Butter gives a wonderful smell and taste to any baking products. It is easy to use and works well baked as well as in any fillings. Butter is a wholly natural product with no artificial or processed fats.