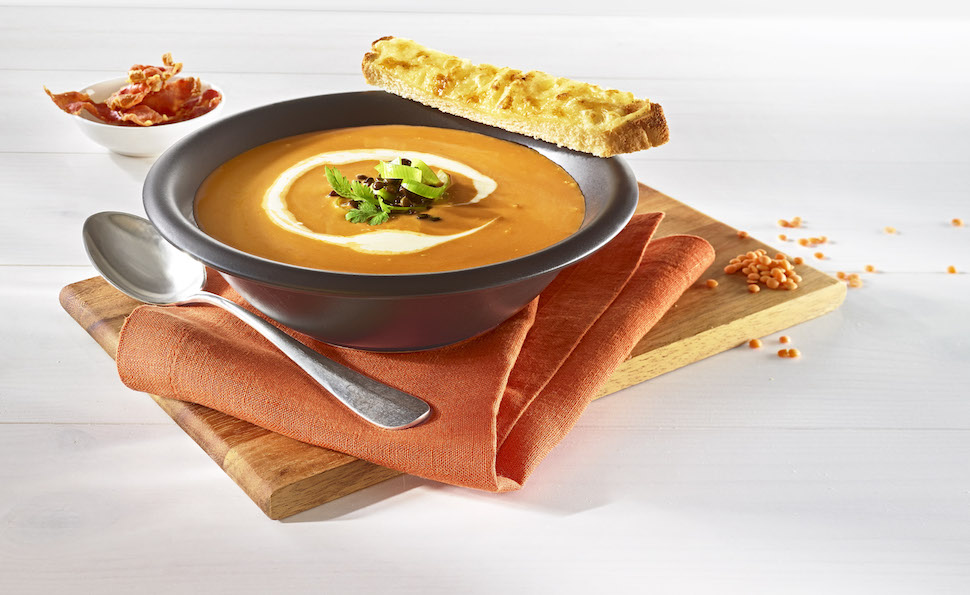 Ingredients
150 g onions, diced
200 g tomato paste
1.2 l vegetable stock
250 g red lentils
sea salt
freshly ground white pepper
cayenne pepper
200 g Beluga lentils
200 g Serrano ham, in strips
1 tbsp. vegetable oil
2 slices of toast
2 fresh leeks, sliced into rings
fresh coriander
Instructions
Preparation
Peel and dice onions. Chop off bottom and top from leek, cut lengthwise and wash. Slice leek finely. Wash coriander and pat dry. Wash lentils. Grate Oldenburger Gouda coarsely.
The Soup
Sweat the onions in the Oldenburger butter until glazed. Add tomato paste and sauté briefly. Add 800 ml Oldenburger Chef's Cooking Cream and vegetable stock and bring to a boil. Add red lentils and cook for 25 minutes. Purée the soup until smooth and season to taste. Cook Beluga lentils separately for 30 minutes.
The Serrano Ham
Tear Serrano ham into small bites and briefly fry in oil until crispy. Leave to cool on a lattice.
The Bread
Toast the bread from both sides. Scatter grated Oldenburger Gouda onto slices and grill until crunchy. Then slice into strips.
Refine the lentil soup with strips of leek, beluga lentils and the remainder of the cooking cream. Garnish with coriander and ham chips, and serve together with the toast strips.
Tips from Chefs to Chefs

01. Genuine cheese is a tasty and wholesome ingredient in any soup and can always be added. Gratinated, it refines fresh bread and adds a delicious roasted flavour. Cheese is a good source of protein and can be used in vegetarian dishes.
02. Cooking cream makes for a richer, smoother soup. It mellows the taste and is also a good flavour carrier.