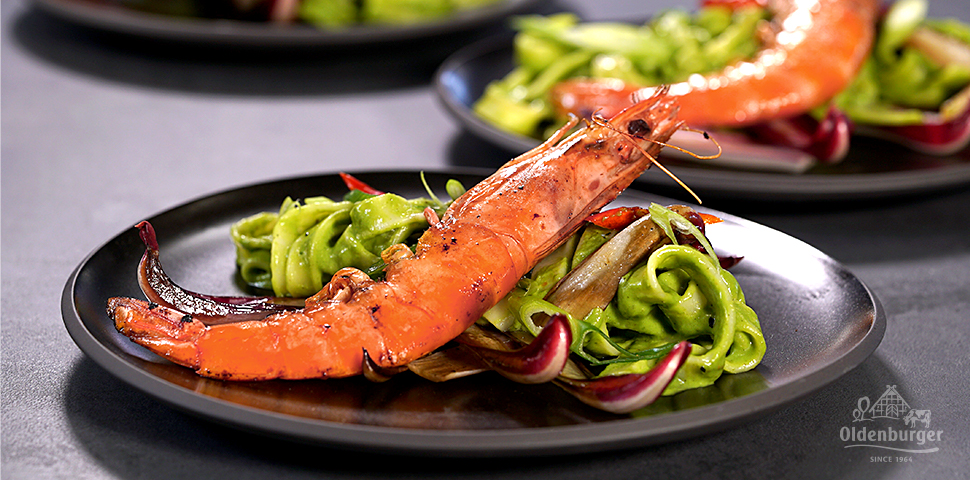 Ingredients
10 king prawns
4 tbsp olive oil 2 cloves of garlic
2 onions
2 heads of radicchio (use Italian tardivo, if you can get it)
400 g spinach
360 ml chicken stock
sea salt
freshly ground pepper
nutmeg
2 tbsp lemon zest
1 kg tagliatelle
1 bunch Italian parsley
Instructions
This pasta dish with lemon, garlic and prawns – a lunch that is both creamy and light

Preparation
Rinse prawns and devein if necessary, then pat dry. Peel and chop the onions finely. Wash the radicchio and cut into into bite-sized pieces. Wash spinach and chop. Grate the lemon zest.
The Pasta
Cook pasta and drain. Set aside and keep warm.
The Pasta Sauce
Make a roux with Oldenburger Butter and flour. Add chicken stock, lemon zest, Oldenburger Whipping Cream and mix well. Add spinach, onions and season with nutmeg, bring to a boil and reduce sauce until smooth and creamy. Put the sauce and the parsley in the blender and mix for about one minute. Season to taste with sea salt and freshly milled pepper.
The Prawns
Heat two tablespoons of olive oil in a frying pan and sear prawns. Add some Oldenburger Butter and garlic for the flavour.
The Final Touch
For serving, mix pasta and sauce in a bowl, place on a dish and add the cooked king prawn.
Tips from Chefs to Chefs

Whipping Cream makes any sauce nice and smooth – and can be added liquid or whipped. It also lightens the colour slightly, however. Whipping cream mellows the taste, so add salt to taste.