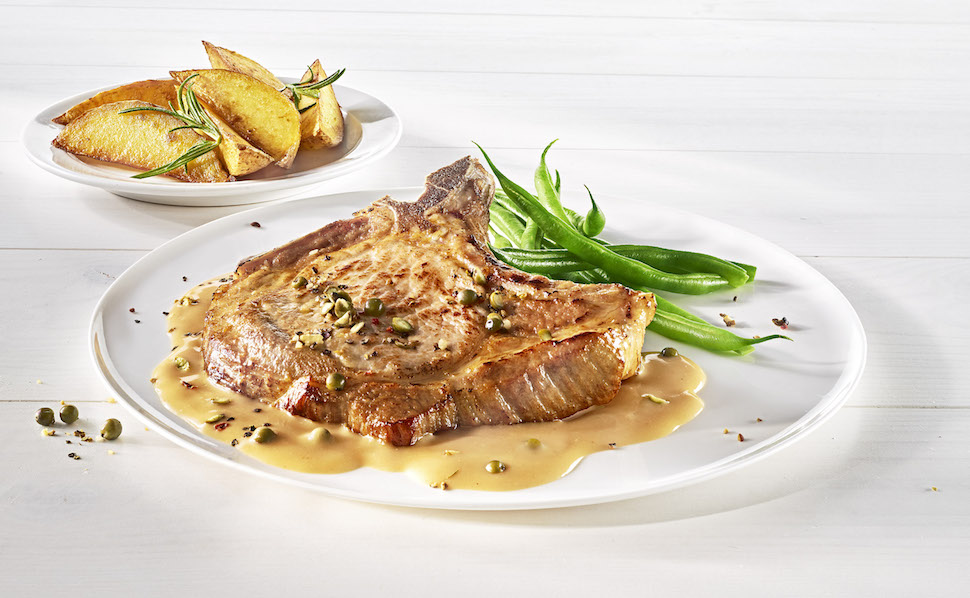 Ingredients
100 g shallots, diced
1 tbsp mustard, medium hot
80 g pickled green peppers
100 ml soy sauce
45 g cornstarch
10 pork chops, 200 g each
sea salt
ground black pepper
lemon juice
Instructions
Preparation
Dice shallots. Wash and clean beans, removing the ends. Wash potatoes and cut in quarters. In a small bowl, stir cold water into the cornstarch, until completely dissolved. The meat is best taken from the fridge a few hours before cooking.
The Pork Chop
Use a large pan to fry the pork chops from both sides for 2,5 minutes. The core temperature should be around 57 °C if you like the meat a nice medium pink. Slow frying at medium temperature will allow for the meat to be heated evenly. After frying, wrap the meat in aluminium foil and let rest for another 8 minutes.
The Beans
Bring water to the boil and add beans. Leave to simmer for about 5 minutes Remove from pan with a slotted spoon. In a casserole, melt Oldenburger butter and add the cooked beans. Stir gently until all beans are coated with butter. Season with salt.
The Potatoe Wedges
Place the potatoes on a tray and season with salt. Bake in the oven until the wedges turn a savory golden brown. The Creamy Pepper Sauce Sweat the shallots in butter, then add Oldenburger Chef's Cooking Cream and stir in the mustard. Add the green pepper and allow to simmer for 10 minutes. Refine the sauce with a little soy sauce. Bind with cornstarch and season to taste with salt, pepper and lemon juice.
The Final Touch
Just before serving, place the meat in a hot frying pan with a piece of Oldenburger butter, half a clove of garlic and some fresh rosemary and thyme. Heat from both sides, pouring Oldenburger butter over the meat with a spoon. Pour cream sauce onto dish and place pork chop into it. Place potato wedges and beans next to the chop.

Tips from Chefs to Chefs

01. Cooking cream has a fat content of only 20%, making a creamy and smooth yet light sauce. It is ideal for cooking as the cream does not curdle even when you add acid. Cooking cream will add a wonderfully smooth texture to any sauce.
02. Do not remove the bone from the meat. Leaving the bone on the meat while frying will result in the meat being juicier. The flavor, too, will be much improved.