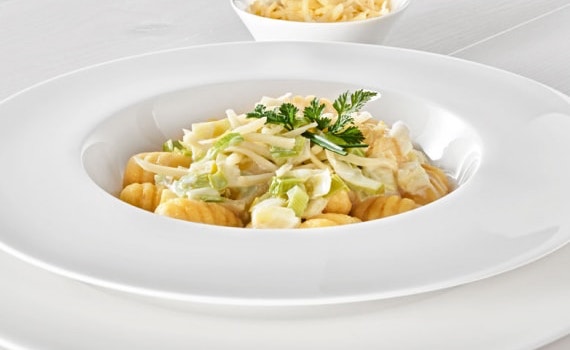 Ingredients
1.2 kg gnocchi, deep-frozen
100 g onions
2 leeks
salt
pepper
sugar
Instructions
Two European classics in one dish: traditional Italian gnocchi, made from potatoes and flour and a most delicious German cheese and leek sauce

Preparation
Wash leek, slice the white parts in fine rings and fill into a large bowl. Slice green parts into fine rings, too, and fill into a separate bowl. Peel and dice the onions.
The Sauce
In a large pan, melt the Oldenburger Butter, unsalted. Add the white leek slices and chopped onions and sweat until transparent. Add Oldenburger Cooking Cream and leave to simmer. Then, add Oldenburger Grated Cheese and simmer until the cheese has melted. Stir to achieve a nice and creamy consistency. Season to taste with salt, freshly milled pepper and sugar.
The Gnocchi
Bring salted water to the boil in a large pot. Add deep-frozen gnocchi and simmer until all gnocchi float at the top. This will take a few minutes only.
The Final Touch
Place gnocchi on a dish, pour a generous serving of the leek sauce over it and top with fresh green leek rings and some Oldenburger Grated Cheese.
Tips from Chefs to Chefs

01. Cooking cream will add a wonderfully smooth texture to any sauce. Compared to butter, the fat's crystallization is delayed in cream. Thus large parts of the fat stay liquid even at low temperatures – leaving the sauce looking appetizingly for longer.
02. Cooking cream is an excellent base for many sauces as it brings out the flavours of spices – because fat is a great flavour carrier.