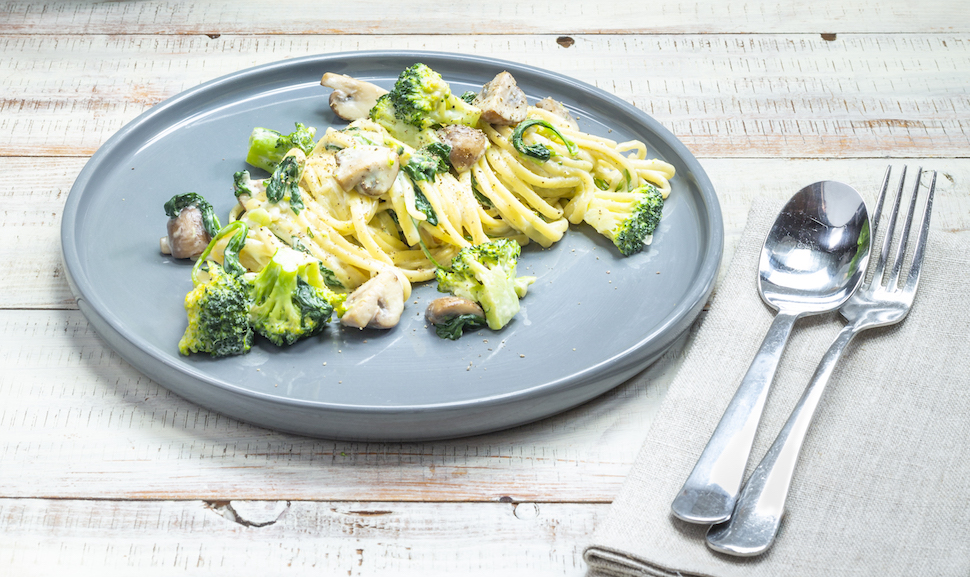 Ingredients
500 g mushrooms
750 g broccoli
450 g baby spinach
5 onions
15 tbsp canola oil
2 l vegetable broth
sea salt
freshly ground pepper
1 kg linguine pasta
nutmeg, grated

Instructions
Preparation
Clean the mushrooms and halve or quarter, depending to size. Wash broccoli, pat dry and cut into small florets. Wash spinach and drain. Peel the onions and finely dice them.
Cooking the one-pot pasta dish
Heat oil in a pot and fry the onions with the mushrooms for about 2 minutes over medium heat. Deglaze with the vegetable broth and the Oldenburger Chef's Cooking cream, then season with sea salt and pepper and bring to the boil. Add linguine and cook with the lid closed for half of the cooking time of the pasta (as on package instructions). Add the broccoli florets and cook covered for the rest of the cooking time of the pasta, stirring occasionally.
As soon as the noodles are al dente, fold in the spinach, season with salt, pepper and nutmeg and serve.
Tips from Chefs to Chefs

01. One of the benefits of this one-pot pasta dish is that the cooking pasta absorbs the sauce and becomes richer and creamier. No need to prepare an additional sauce with this recipe – saves time and space in your kitchen.
02. Cooking cream will add a wonderfully smooth texture to any sauce. Compared to butter, the fat's crystallization is delayed in cream. Thus large parts of the fat stay liquid even at low temperatures – leaving the sauce looking appetizingly for longer.