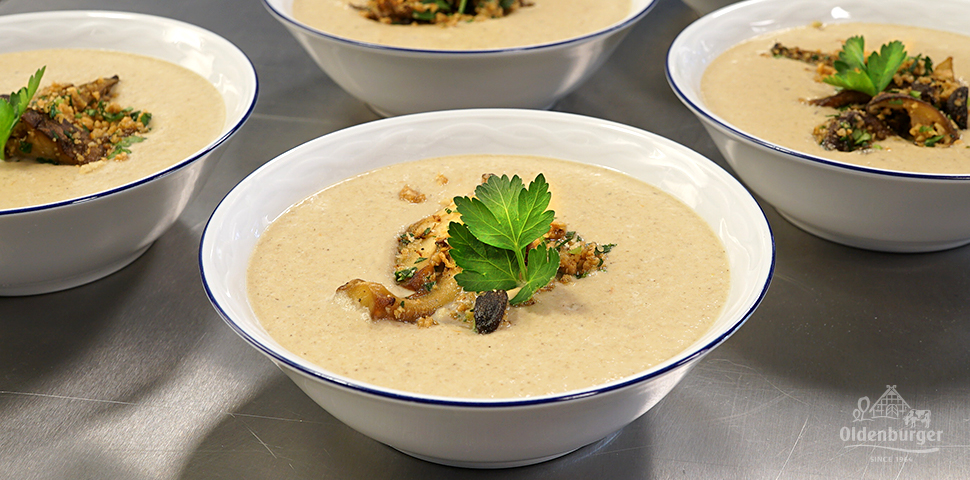 Ingredients
1 kg mixed fresh mushrooms

2 sticks of celery

2.5 onion

2 cloves of garlic

1.75 l vegetable or chicken stock

a few sprigs of fresh thyme

a bunch of fresh parsley

some lime juice and zest

salt

freshly ground pepper

Instructions
This combination of creamy mushroom soup and sweet and salty oat crumble is simply breathtaking. A nice garnish for this soup are fried mushrooms with fresh parsley and something crunchy, like the crumbles. This soup is a perfect start for your meal, served with freshly baked bread.
Start your meal with a savoury creamy mushroom soup – your guests will love the smooth taste.

Preparation
Clean and dice the mushrooms. Peel the onion, celery and garlic and cut into fine cubes, then pick the parsley and cut the stalks into small pieces. Pick the thyme leaves. Preheat the oven to 180°C.
The Soup
Put the Oldenburger Butter in a large saucepan over a medium heat, add the onion, celery, garlic, parsley stalks, thyme leaves and mushrooms, pop the lid on and cook gently until softened. Pour the stock into the pan and bring to the boil over a medium heat, turn the heat down to low and simmer for 10-15 minutes. Season to taste with sea salt and freshly ground black pepper. Pour in the Oldenburger Chef's Cooking Cream, bring just back to the boil, then reduce the heat. If you want a thicker, smoother soup, add some corn starch for binding. Just mix the starch with a little cold water and add it to the soup, heat it up until boil.
The Oat Crumble
For the crumble put the oats, flour, sugar, cold Oldenburger Butter cubes, salt and vanilla in a blender and mix it. Put the crumble on a tray and bake it in the oven for about 15 minutes (180°C).


The Final Touch
Garnish the soup with nice and small cut parsley and the sweet and salty baked oat crumble.

Tips from Chefs to Chefs

01. Cooking Cream makes for a richer, smoother soup. It mellows the taste and is also a good flavour carrier.
02. Sweating onion, celery and the mushrooms in a generous portion of butter, brings out so much more of the flavour of these vegetables. The fat acts as a flavour carrier.

03. Cooking Cream has a fat content of only 20 % thus making a creamy and smooth yet light sauce or soup. It is ideal for cooking as the cream does not curdle even when you add acid.