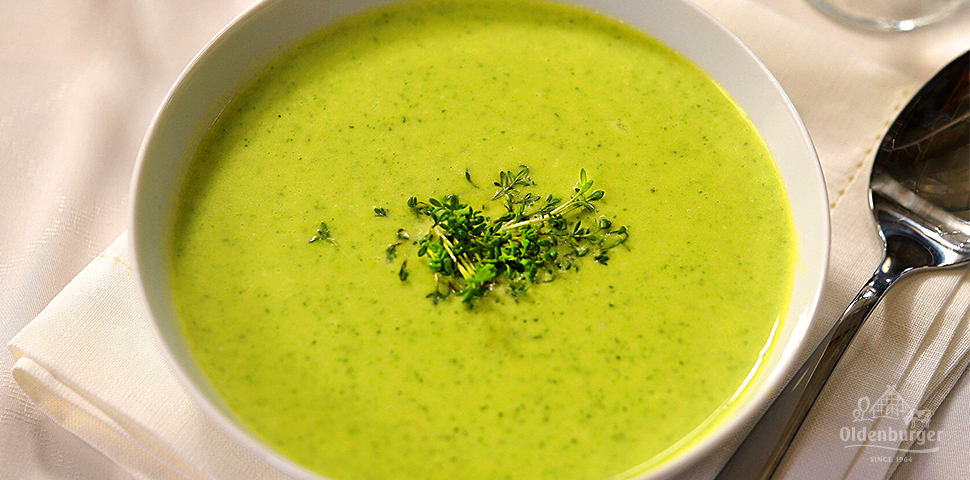 Ingredients
450 g onions
500 g potatoes
50 ml olive oil extra vergine
3 cloves of garlic
400 ml vegetable stock
1.2 kg courgettes sea salt freshly milled pepper
3 g nutmeg
1 pack garden cress for garnishing

Instructions
Preparation
Peel onions and garlic and chop finely. Peel potatoes and dice. Wash and dry courgettes and cut in slices of 1 cm.
In a large pan, heat the olive oil. Add onions and potatoes and saute. Add vegetable stock and bring to the boil. Leave to simmer for another 15 minutes on low heat. Add the courgette slices and boil for another 5 minutes.

The Soup
Add the Oldenburger Cooking Cream to the soup and pureé, until really smooth. Then add sea salt, pepper and nutmeg.
The Final Touch
Pour the soup into a soup dish, sprinkle some cress on top and serve piping hot.

Tips from Chefs to Chefs

01. Adding Cream to a vegetable soup greatly enhances the flavour as well as giving a smooth and shiny finish. The sauce should be kept at a warm temperature, however, as cooling will result in a fine skin forming which looks less pleasant.
02. Cooking cream makes for a richer, smoother soup. It mellows the taste and is also a good flavour enhancer.