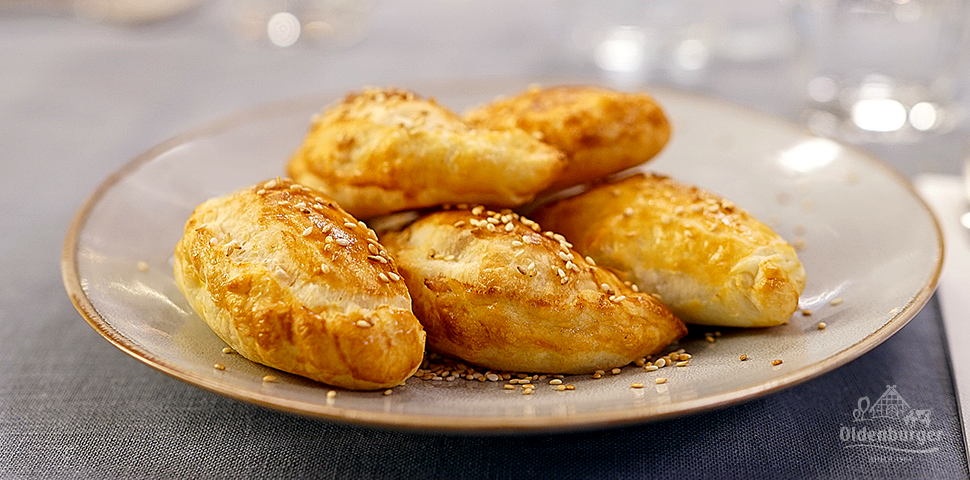 Ingredients
250 g boiled ham
50 g chives
freshly ground pepper
1.2 kg instant puff pastry
1 egg yolk
30 g sesame seeds
Instructions
Preparation
Grate cheese. Cut the boiled ham into small cubes. Chop chives into rings. Beat the egg yolks together with Oldenburger Cream in a bowl. Preheat the oven to 220 °C.
Spread ham and Oldenburger Cheese mixture onto the dough biscuits. Thinly spread beaten egg yolks round the edges of the biscuits, then fold around the filling and firmly press together the seams. Coat the pierogies with the remainder of the egg cream. Sprinkle with sesame seeds and place on a greased baking sheet.
Bake in a preheated oven at 220 °C for 15-20 minutes until golden brown. Leave to cool on a wire rack.
Serve as a finger food to accompany drinks.
Tips from Chefs to Chefs

01. Melted cheese blends well with other ingredients and herbs and makes an ideal filling for oven baked savoury pastries. It can be served hot or cold.
02. Dough left over from cutting out pastry can be sprinkled with sea salt and baked separately until crispy, then served with nuts and crisps as an apéritif pastry. Instead of ham, spicy salami can also be used for the filling.