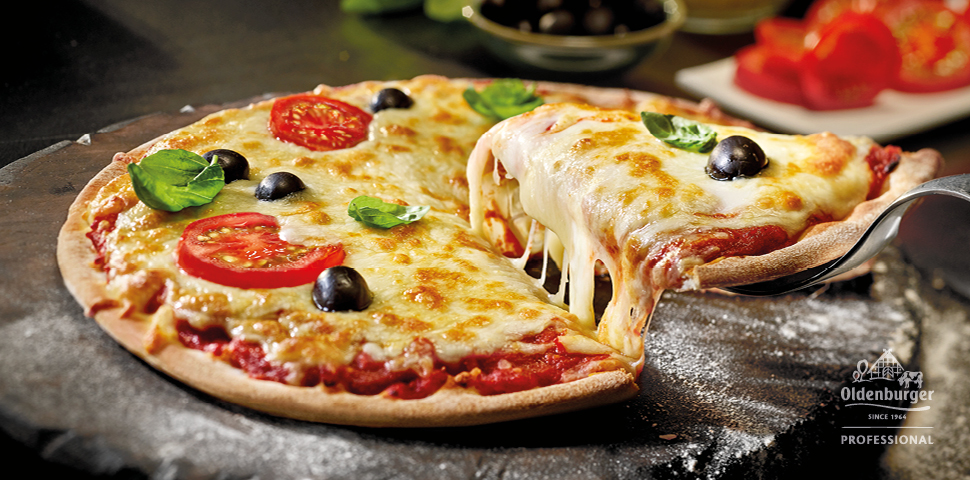 Ingredients
625 ml lukewarm water
10 g dry yeast
20 g sugar
30 ml olive oil
1.25 kg all-purpose flour, sieved
10 g salt
800 g tinned
chopped tomatoes
salt
15 g dried oregano
1 kg Oldenburger Grated Cheese Mix, 45% fat i.d.m.

7 fresh tomatoes, thinly sliced
60 pitted black olives
200 g basil
extra virgin olive oil
Instructions
Preparation
Mix the water with the yeast and sugar in a bowl and let it soak for about 5 minutes in a warm place until it forms a foam. Add the olive oil. Put the sieved flour and the salt in a bowl, add the yeast mixture and knead into a smooth dough.
C
over the dough and leave it to rise in a warm place for 45 – 60 minutes.
Knead the dough again and divide it into 10 portions of about 170 g each. Before continuing, let the dough balls rise again for about 15 minutes.
Making the Tomato Sauce
Mix the tinned tomatoes with salt and oregano to make a pizza sauce.
Making the Pizza
Roll the dough balls out to form round pizza bases (each about 30 cm in diameter), spread them evenly with the pizza sauce and cover them with Oldenburger Grated Cheese Mix.
Baking the Pizza
Bake in a preheated oven, ideally on a pizza stone, at about 250 °C for about 6 – 8 minutes.
The Final Touch
Then cover with the tomato slices, olives and basil and briefly return to the oven. Drizzle some olive oil on it before serving.
Tips from Chefs to Chefs

01. Try using chili oil instead of olive oil before serving! Or as a variation, add thin slices of prosciutto before serving.
02. If this product isn't available, you can also grate our 2.5 kg or 3 kg mozzarella and gouda loaves.