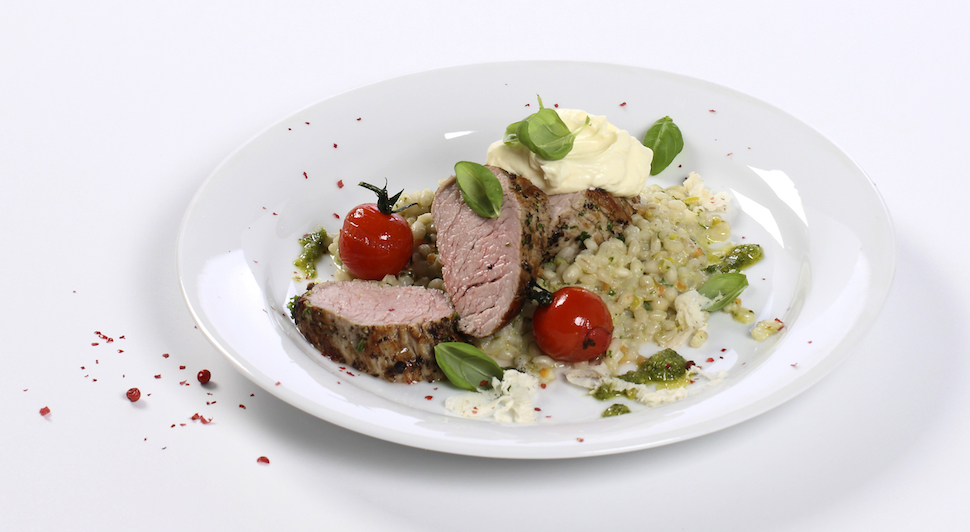 Ingredients
1.5 kg filet of veal sea salt freshly ground pepper

500 g pearl barley olive oil extra vergine

250 g diced vegetables (mixture of leek, celery, carrots, onions, 1 clove of garlic)

200 ml white wine

600 ml vegetable stock

100 g fresh thyme

150 g grated parmesan

80 g horseradish 80 g pesto nutmeg

400 g cherry tomatoes

Instructions
A recipe for a culinary treat for special occasions: roasted filet of veal over pearl barley risotto with pesto, horseradish and fruity pan-seared cherry tomatoes. Pearl barley adds texture to the creamy risotto and has a delicious nutty flavour while the choice meat makes it a real treat. This unusual risotto pairs wonderfully with tender veal filet

Preparation
Soak pearl barley, wash and drain. Wash and pat dry thyme sprigs. Preheat the oven. Convection heat: 150 °C.
The Filet of Veal
Sprinkle filet of veal with sea salt and pepper. In a hot pan, sear briefly on both sides. Place the meat on a baking tray and transfer to the oven. Roast in the oven at 150°C convection heat for 30 minutes.
Saute diced vegetables in olive oil. Add pearl barley and season with salt. Briefly saute, then deglaze with white wine and broth. Add thyme sprigs. After 15 to 20 minutes, the barley will be ready, and the thyme can be taken out. Add Oldenburger Butter parmesan, horseradish and pesto, then season to taste with salt, pepper and nutmeg.

The Final Touch
Serve risotto with roasted cherry tomatoes and filet of veal cut into slices. To finish, garnish each dish with a piece of Oldenburger Butter.
Tips from Chefs to Chefs

01. Butter is a natural product and adds a beautiful flavour to any baking product. It also acts as a flavour carrier and brings out flavours in any dish.
02. Sweating vegetables in a generous portion of butter, brings out even more of the flavour of these vegetables.