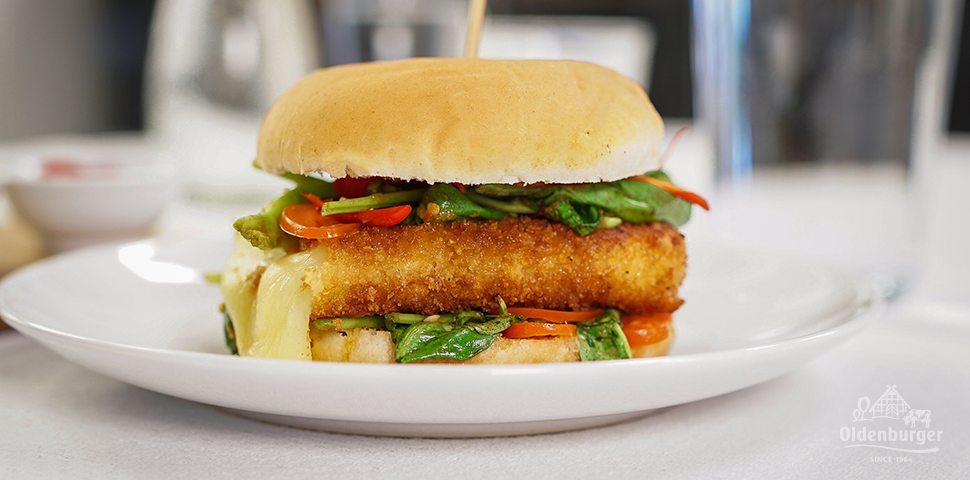 Ingredients
For the Mozzarella Patty
2 eggs
300 g panko, breadcrumbs
3 tbsp flour
300 ml neutral oil, for frying
For the Thai Water Spinach (Pad Bung Fai Daeng)
1 kg water spinach
2 tbsp soy bean paste
2 tsp brown sugar
4 tbsp oyster sauce
5 chilis
3 garlic cloves
2 tbsp oil for frying
Instructions
In this recipe you have the full taste of mozzarella cheese in a golden brown crust combined with sweet, sour and spicy flavours

Preparation
Wash the water spinach, pat dry and cut into approx. 4 cm pieces. Wash the chilis and cut into small pieces and peel the garlic cloves. Cut the Oldenburger Mozzarella into 1 cm slices, ten times. Take three containers and put flour in the first one, beaten eggs in the second one and panko in the third one. Preheat the oven to 180 °C.
The Pad Bung Fai Daeng
Put the chilis and the garlic in a mortar and grind into a paste. Heat the oil in the wok and add the paste, soybean paste, water spinach and the oyster sauce. Fry at high heat for 2-3 minutes, stirring constantly.
The Mozzarella Patties
Dip the 10 Oldenburger Mozzarella slices into the flour, coating both sides. In the same way proceed with the egg mixture and finally with the panko breadcrumbs. Repeat the process twice with each cheese slice. Heat the oil in a pan and fry the mozzarella patties for about 2 minutes on each side. During the last seconds of frying, add the Oldenburger Butter. This gives a nice and golden brown colour and gives a wonderful flavour to the breadcrumb coating. After frying, put the patties in the preheated oven for approximately 8 minutes.
The Final Touch
Halve the burger buns lengthwise and roast them on the grill. Put the burgers together and serve.
Tips from Chefs to Chefs

01. Due to its short maturing time, Mozzarella is a fresh tasting type of cheese. It is produced by kneading and subsequent brewing and then spun thus gaining its characteristic fibrous texture.
02. Fried cheese slices are easy to prepare in advance: Just coat, fry and leave to cool. Shortly before serving, bake in a hot oven at 180 °C for a convection oven (200 °C conventional oven) for approximately 5 minutes.