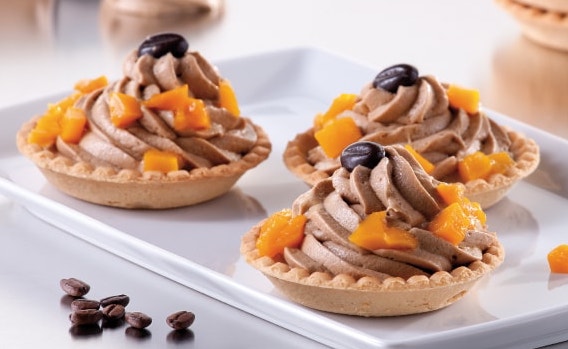 Ingredients
200 g dark chocolate cake glaze
50 g milk chocolate cake glaze
1 egg, medium sized
1 egg yolk
50 g sugar
20 g instant espresso powder
10 sweet dessert tartlets (about 7 cm in diameter)
1 mango fruit preserve (drained weight 230 g)
10 chocolate coffee beans
Instructions
This beautiful coffee flavoured dessert looks very enticing and will make all coffee fans happy

Preparation
Chop the cake glaze roughly. Drain mangos and dice. Crack one egg open. Crack the second egg and separate egg white and yolk. Add yolk only to the first egg.
Making the Chocolate Mousse
Place a pot in a bowl filled with hot water and add chocolate chunks. Stir until cake coating has fully melted to a smooth cream. Place another pot in hot water and mix the egg, egg yolk, 2 tbsp of water, sugar and espresso powder. Whip 500 ml Oldenburger SHANI Whipping Cream until firm and fold under the cooled chocolate mousse. Fill into a container and leave to cool for a minimum of 2 hours.
Making the tartlets
Fill the cooled espresso mousse into a piping bag with a star shaped nozzle. Carefully spread the mousse on the tartlets in a big swirl.
The Final Touch
Garnish tartlets with mango pieces and place a chocolate coffee bean on top of the mousse swirl.
Tips from Chefs to Chefs

Whipping Cream should always be cooled down before whipping. Also, use a cooled container for whipping.