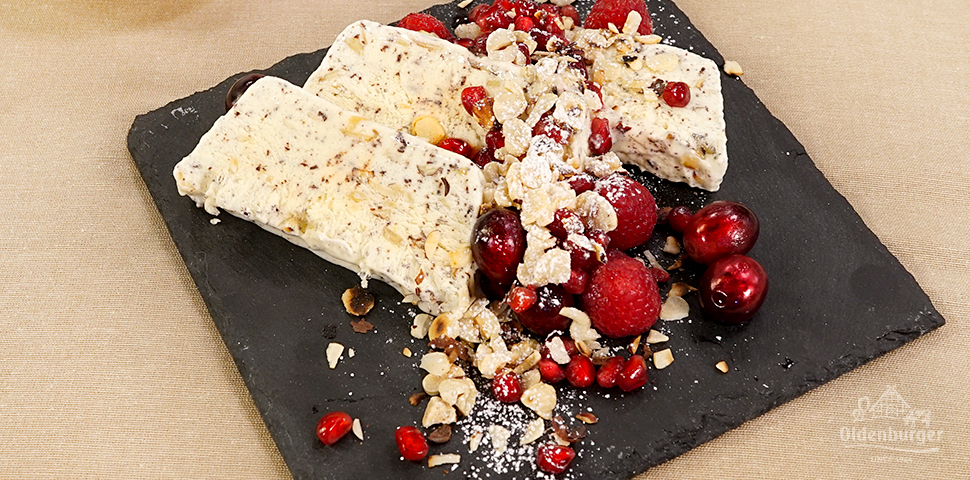 Ingredients
100 g hazelnuts
160 g dark chocolate
6 eggs
160 g sugar
2 vanilla pods
1 tsp cinnamon
pinch of salt
30 raspberries
20 red grapes
100 g almonds, sliced
icing sugar for decoration
Instructions
This recipe of a creamy hazelnut parfait with chocolate and fresh berries is a scrumptious dessert or afternoon tea treat

Preparation
Separate the eggs. Whip the Oldenburger Whipping Cream until stiff. Roast the hazelnuts in a pan without fat. Remove, let cool and chop coarsely. Finely chop the chocolate. Wash the berries and cut the grapes in halves. Line a muffin tray with cling film.
The Parfait
Whip the egg whites with a pinch of salt, then slowly add 80 g sugar and whisk until a shiny white mass is obtained. Whip the egg yolk with 80 g sugar, a pinch of cinnamon and the pulp of the vanilla pods until you have a light, thick cream. Alternately fold the whipped cream and beaten egg whites into the egg yolk mixture. Then stir in the chopped hazelnuts and chocolate. Pour the parfait mixture into a muffin tray and freeze for at least 5 hours or overnight. Remove the parfait from the freezer some minutes before serving.
The Final Touch
Put the parfait on the plate and garnish with the fresh berries, roasted almonds and the icing sugar and serve immediately.
Tips from Chefs to Chefs

01. Ice parfait, also abbreviated parfait, slightly differs from ice cream. It is not produced in an ice cream machine. The term and its production are attributed to French cuisine.
02. Parfait can be kept in the freezer for several weeks.