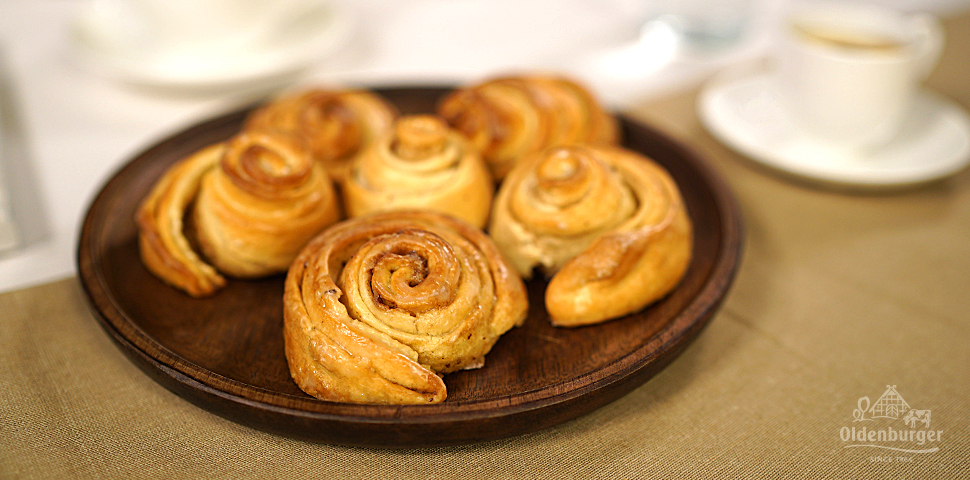 Ingredients
500 g all-purpose flour
7 g dry yeast
60 ml water (lukewarm)
140 g sugar
0.5 tsp vanilla extract
1 egg
0.5 orange (zest)
2 tsp cinnamon
200 g confectioner's sugar
2 tbsp lemon juice
1 tsp sugar
salt
flour for work surface

Instructions
Preparation
Preheat oven (top/bottom heat: 190 °C/ convection: 175 °C).
The Yeast Dough
In a small bowl, combine water, yeast and some sugar. Leave until foamy for approx. 5 – 10 min. Whisk together Oldenburger Milk, vanilla extract, egg, melted Oldenburger Butter, some sugar and a pinch of salt. In two batches, add all-purpose flour to the milk mixture. Now add in the yeast mixture and continue beating. Knead until smooth. Leave to rise in a warm place for approx. 2 hours.
For the filling, combine the soft Oldenburger Butter with the remaining sugar, cinnamon and the zest of half an orange in a small bowl. Mix until smooth.
Halve the dough and roll each half into the shape of a rectangle, approx. 3mm thick. Spread the filling evenly onto the dough, leaving a small strip all around. Starting at the long end, roll up the dough. Cut the roll crosswise into 12 equal pieces. Place the rolls into the prepared muffin pan or on a baking tray, cut side down and leave to rise for another hour. Then bake for approx. 15 - 20 min. until golden. Allow to cool for 10 min. on a cake rack.
In a small bowl, combine confectioner's sugar and lemon juice. Stir until completely dissolved. Place a plate underneath the cake rack to catch any excess frosting. Drizzle cinnamon buns with sugar frosting to your liking. Serve while still warm.
Tips from Chefs to Chefs

01. Butter gives a wonderful smell and taste to any baking products. It is easy to use and works well baked as well as in any fillings. Butter is a wholly natural product with no artificial or processed fats.
02. Cream makes for a lighter and less buttery filling in cakes and is greatly appreciated by many chefs. At the same time, it is a wholesome, natural product.