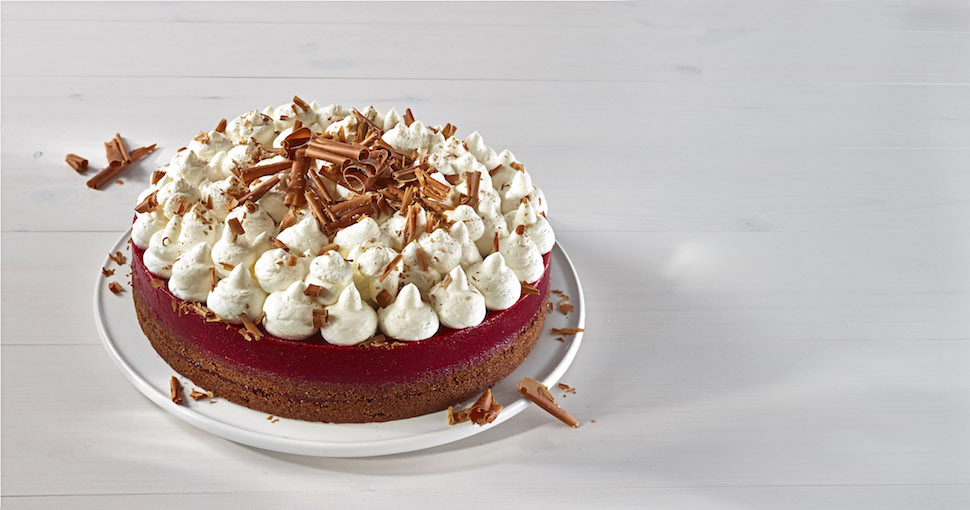 Ingredients
4 tbsp hot water
150 g sugar
100 g white flour (type 405)
100 g cornstarch
25 g cocoa powder
7.5 g baking powder
60 g cherry jam
750 g cherry sauce
80 g sugar
4 eggs
8 sheets of white gelatine
chocolate shavings

Instructions
Preparation
Soak the gelatine in cold water. Cover the base of a 26 cm diameter springform pan with a baking sheet. Heat the oven at 180 °C or 160 °C if using a convection oven.
The Chocolate Sponge Cake
Beat the eggs together with hot water until thick and foamy. Add the sugar and beat for at least 2 minutes. Mix in the flour, cornflour, cocoa powder and baking powder and fold into the egg mousse. Pour the sponge dough into the springform pan and bake for 35 minutes in the oven. Leave to cool, then cut the sponge into two layers. Cover one half with the cherry jam and put the other half on top. Place a cake ring around the sponge.
The Cherry Sauce
Purée the cherry compote until very smooth. Squeeze the gelatine well and warm together with 2 tbsp. of cherry compote until it dissolves. Stir into the remaining cherry compote and spoon onto the biscuit. Allow to cool and set for at least 2 hours. The Cream Whisk the Oldenburger Whipping Cream until stiff and pipe onto the cherry layer in blobs.
The Final Touch
Sprinkle the cake with chocolate shavings. Cut in 12 pieces and serve one piece each on a dish.

Tips from Chefs to Chefs

01. Whipped cream with a fat content of 35 percent or higher stays perfectly stable. When whisking the cream, try to fold in as much air as possible. It is easy to determine when whipped cream is ready. Stop your mixer at the moment the cream loses its sheen – if you continue to mix the cream will turn into butter only seconds later.