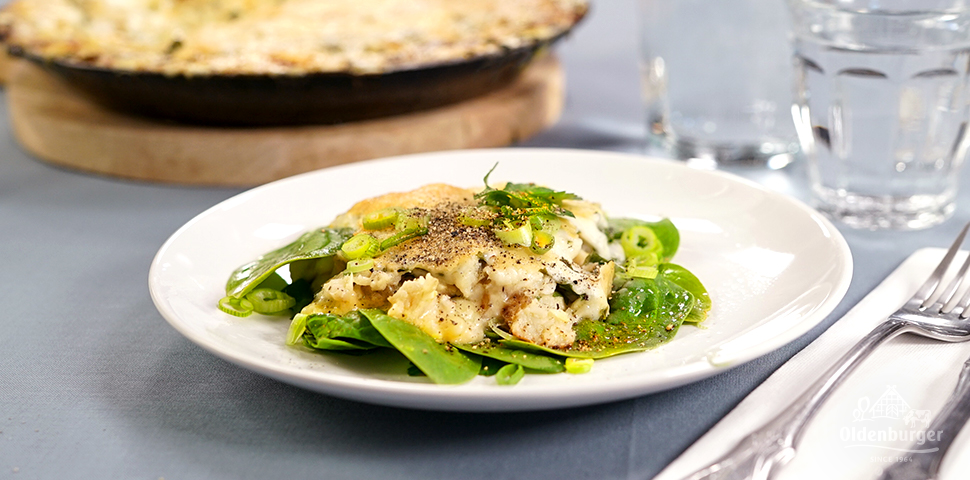 Ingredients
3 tbsp flour
1.5 kg potatoes
1 kg undyed smoked haddock, skin off
300g Oldenburger Grated Cheese 45% fat i.d.m.

4 bunches of spring onions
800 g baby spinach
nutmeg, grated
salt
freshly ground black pepper
a bunch of parsley
Instructions
This dish convinces with its smoky flavour and soft texture. The fresh spinach goes well with the slightly nutty potatoes.

Preparation
Preheat the oven at 180 °C. Cut the haddock in bite-sized pieces. Wash the baby spinach and spring onions and pat dry. Bring a pot with salty water to the boil and add the potatoes. Wash the parsley and pat dry.
The Sauce and the Vegetables
Heat the Oldenburger Butter in a saucepan over medium heat and add the flour to prepare a roux. Pour in the Oldenburger Whipping Cream, season with salt, black pepper, nutmeg and let it simmer for approx. 3 minutes. Peel the cooked potatoes and cut them into slices. Cut the spring onions and the baby spinach finely. Cut the parsley finely.
The Fish Pie
Take a cast-iron pan, pour in sliced potatoes, haddock, spring onions, baby spinach and the sauce. Spread the Oldenburger Grated Cheese generously over it and put it in the oven for approx. 20 minutes.
The Final Touch
Sprinkle the fresh parsley over the fish pie, season with black pepper and serve.
Tips from Chefs to Chefs

01. Real Cheese makes all the difference when melted cheese is asked for. It has a superior taste and excellent melting qualities – and tastes great even when cooling down. Real cheese is made from fresh cow's milk with no added flavourings. It is a highly valuable grocery and part of a health conscious diet. Cheese is an excellent source of protein and high in calcium and vitamins A, B2, B12 and D.
02. Depending on your taste, you can also use other fish. Smoked trout or salmon also taste great in this dish.

03. Roux is flour and fat cooked together and used to thicken sauces. Roux is typically made from equal parts of flour and fat by weight.