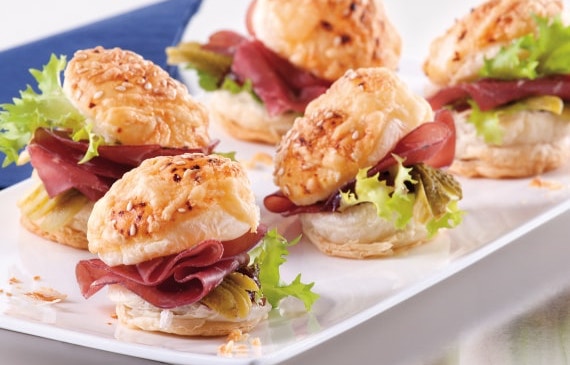 Ingredients
1 egg yolk
600 g ready-made puff pastry
3 g shredded chilis
5 g sesame seed
1 frisée salad
125 g cornichon gherkins
50 g red fig mustard
225 g Grison meat
Instructions
Delicious finger food as a starter or on any buffet. The cured meat and freshly baked cheese medallions are irresistable.

Preparation
Grate the Oldenburger Gouda. Crack the egg open and collect egg yolk in a small bowl. Wash frisée, pat dry and tear into bite-sized pieces. Cut the cornichon gherkins in halves, then, cut each half several times and fan out. Cut the Grison meat in fine slices. Cover baking trays with baking sheets and preheat the oven to 220 °C.
Baking the Cheese Medallions
Grate Oldenburger Gouda coarsely. Mix egg yolk and Oldenburger Whipping Cream and spread the mix onto puff pastry. With a fork, prick pastry several times and sprinkle with chili flakes, sesame seed and cheese. With a round cutter (5 cm diameter), cut out medallions and place on the baking tray. Bake for 12-15 minutes until golden brown. Remove medallions from the baking tray and leave to cool.
Filling the Medallions
Divide base and lid of the medaillons. Thinly spread some fig mustard onto the base. Add some frisée and cornichons.
The Final Touch
Fold the Grison meat decoratively and place on salad. Then, top with lid.
Tips from Chefs to Chefs

01. As an alternative to Grisons meat, you can use Italian Bresaola cured ham or thinly sliced smoked fillet of ham.
02. Any remaining puff pastry cuttings can be baked and served with nuts and potato chips to accompany apéritifs.