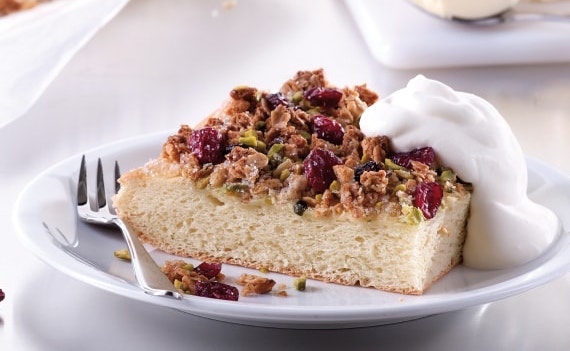 Ingredients
500 g flour (Type 550)
1 cube fresh yeast (42 g)
75 g sugar
1 small lemon
some flour for kneading
sunflower oil for greasing the baking tray
150 g baked muesli
80 g dried cranberries
50 g pistachios
salt
Instructions
Butter cake is a very popular cake in the North of Germany. The rich buttery taste make it a real treat. It is best served really fresh – even still warm from the oven.

Preparation
Wash lemon under hot water, dry and grate zest. Chop pistachios. Preheat oven to 180 °C.
The Dough
Warm Oldenburger Butter until tepid. Sieve flour to a large bowl. Push a dent into the middle of the flour and add crumbled yeast, 3 tbsp tepid Oldenburger Fullcream Milk, 1 tbsp sugar and some of the flour and mix carefully. In a warm place, leave for about 15 minutes. Then, add rest of the Oldenburger Fullcream Milk, 50 g sugar, 75 g soft Oldenburger Butter, the zest of the lemon and ½ tbsp salt and knead to a smooth dough. Cover with a clean cloth and leave to rise for about 30 minutes. Knead the dough again, roll out on a greased tray.
The Crumble Topping
Carefully mix 175 g soft Oldenburger Butter with cranberry muesli and the rest of the sugar. With a wooden spoon, carefully push small dents in the butter cake dough and spread the muesli crumble topping on the cake. Bake the butter cake in the hot oven for about 20 minutes.
The Final Touch
Take out of the oven and immediately scatter the cranberries and pistachios over the cake. Bake for another 5 minutes.
Tips from Chefs to Chefs

01. This cake is best served with a side of Whipping Cream.
02. Instead of cranberries, dried cherries or sultanas can also be used.