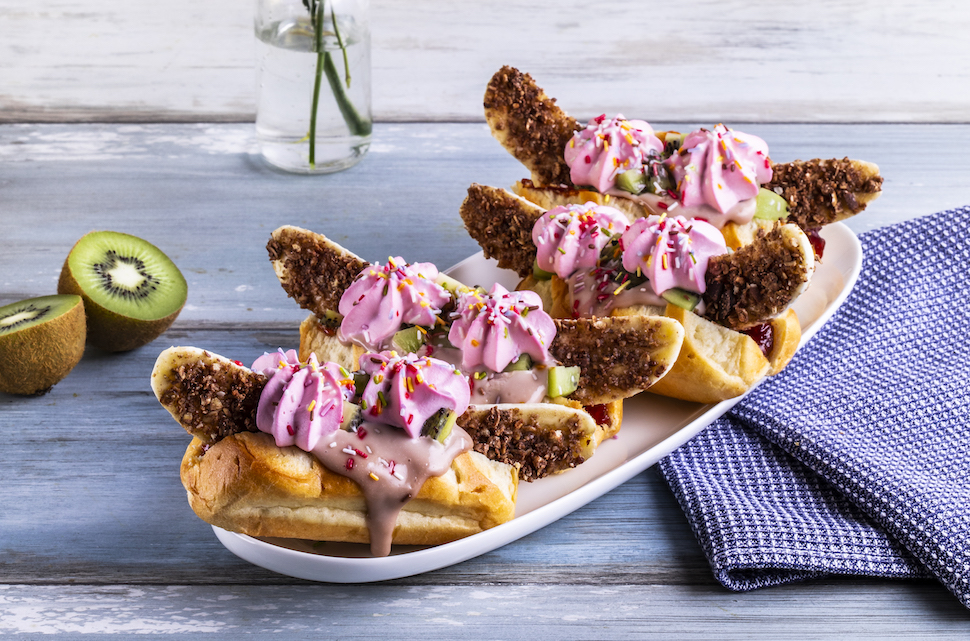 Ingredients

For the "sweet mayo":
125 ml cocoa flavoured milk

2.5 tbsp bee honey

300 ml sunflower oil
For the cream:
For the hot dogs:
60 g crunchy granola cookies

5 bananas (approx. 150 g each

)
2.5 tbsp bee honey
2.5 kiwi
10 sweet brioche buns
10 tbsp strawberry jam
5 tbsp colourful sugar sprinkles
Instructions
Try out this unusual recipe for a creative sweet interpretation of hot dogs. It will look most catchy on any menu and guests will love the surprise – as well as the mouthwatering taste of cream and honey. Combined with crunchy granola biscuit crumbs and sweet bananas – this dessert is set to steal the show. Sweet banana hot dogs: the perfect dessert for adventurous customers.

Preparation
Crush granola cookies in a freezer bag using a rolling pin. Peel bananas, halve lengthwise. Peel kiwi and cut into small cubes. Cut brioche buns lengthwise.
The Sweet Mayo
For the mayo, add cocoa flavoured milk and honey to a tall container and mix in a blender. Gradually add sunflower oil until the consistency becomes creamy.
For the cream, mix the beetroot juice with the Oldenburger SHANI Whipping Cream and whisk until stiff with a hand mixer.

Preparing the Hot Dogs
Coat the outside of the bananas with honey and sprinkle crushed granola on top. Coat halved brioches with jam, add half a banana to each, brush with mayo and top with kiwi cubes. Spread cream on top.


The Final Touch
Before serving, decorate with sugar sprinkles.

Tips from Chefs to Chefs

01. Whipping Cream is the ideal addition to numerous sweet and savoury dishes. It can be whipped easily and its creamy, stable foam is perfect for fancy cakes and desserts. Oldenburger Shani Whipping Cream is made from fresh cow's milk and has been treated gently with ultra-high temperature to make it last longer while offering a high nutritional value and quality.
02. For optimal quality refrigerated storage is recommended. Especially before whipping Whipping Cream should be stored in the refrigerator to obtain optimal whipped cream.