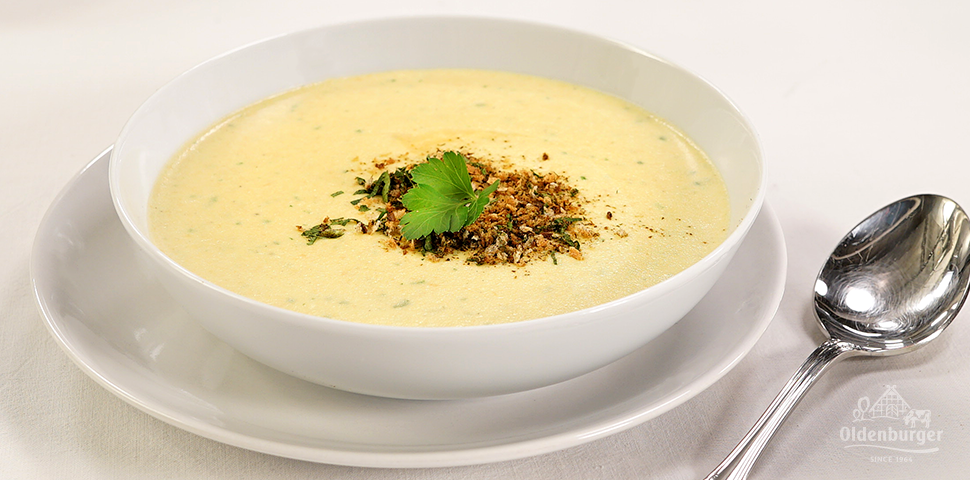 Ingredients
1.5 kg potatoes
7 cloves of garlic
5 onions
10 stems of thyme
12 tbsp olive oil
5 tsp smoked paprika powder
2.5 l of vegetable broth
sea salt
freshly milled pepper
sugar
nutmeg, grated
300 g cashew nuts
2.5 tsp powdered sugar
5 stalks of parsley
Instructions
Preparation
Peel and wash the potatoes, pat dry and cut into large pieces. Peel garlic and slice. Peel and dice the onions. Wash the thyme, shake it dry and pluck the leaves. Roughly chop the cashews.
Sauteing the Potatoes
Heat oil in a large pan and add potatoes, garlic and onions. Saute until golden brown. Add the paprika powder and saute briefly. Deglaze with vegetable broth and leave to cook for about 20 minutes.
The Cashews
Dry-fry the chopped cashews in a pan without oil. Sprinkle powdered sugar over the nuts using a sieve, caramelize and season with sea salt and let it cool on a flat sheet.
Preparing the Soup
As soon as the potatoes are cooked, add Oldenburger SHANI Whipping Cream, boil briefly and finely mix for about 1 minute in a blender. Season with sea salt, freshly milled pepper, sugar and nutmeg.
The Final Touch
Garnish with cashews and parsley and serve immediately.
Tips from Chefs to Chefs

01. To give the topping a little kick, simply sprinkle 1 pinch of curry powder over the cashew nuts while caramelizing them in a pan
02. Cream makes for a richer, smoother soup. It mellows the taste and is also a good flavour enhancer.