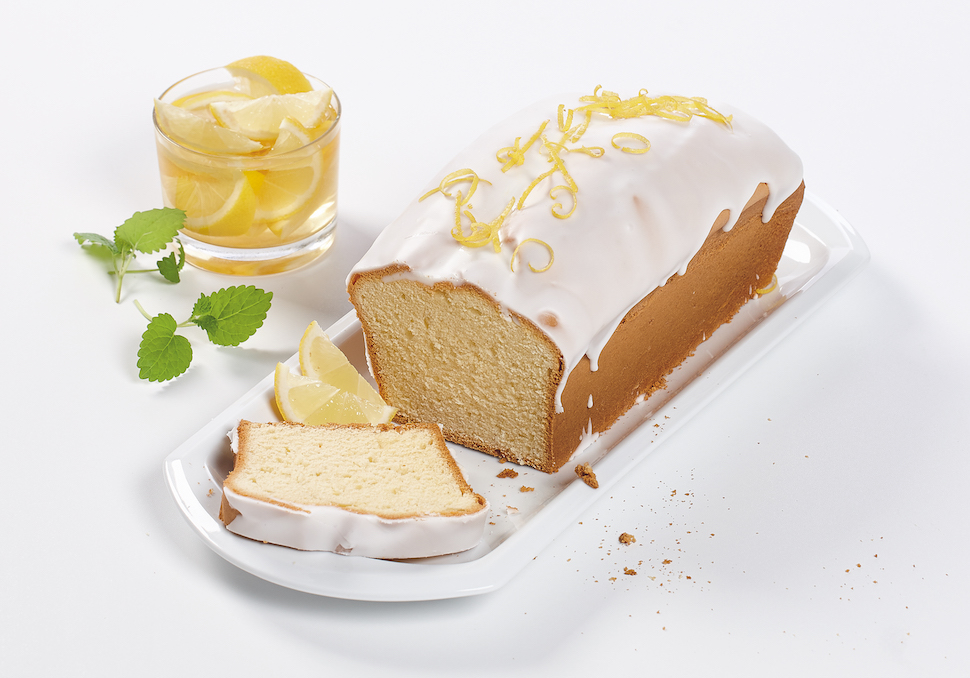 Ingredients
220 g sugar
4 eggs
200 g flour
60 g cornstarch
7.5 g baking powder
1 vanilla bean pod
1 lemon
0.3 g salt
50 ml juice of one lemon
120 g icing sugar

Instructions
Lemon Cake is a classic and popular with young and old. Your guests will love the juicy flavour and succulent texture.

Preparation
Crack eggs open into a bowl. Wash lemon with hot water and grate the zest. Sift together flour, cornstarch and baking powder. Line a loaf tin with parchment paper. Make icing stirring together lemon juice and icing sugar.
The Cake Batter
Beat together Oldenburger Butter, sugar, vanilla bean pod and grated lemon zest until fluffy. Mix in the flour mixture, then slowly and alternately stir in eggs and flour mix.
Baking the Cake
Pour batter in the lined loaf tin. Bake the cake for 40-50 minutes at 160°C in a convection oven. After 15 minutes, score the cake lightly.
The Icing
Remove cake from the oven, leave to cool on a cooling rack. Once the cake has cooled, spread the icing, covering the sides as well.
The Final Touch
Grate some lemon zest on top of the cake, cut in thick slices and serve.

Tips from Chefs to Chefs

01. If you like the cake even juicier, prick the cake with a pointed wooden stick prior to icing. Then, pour some more freshly squeezed juice over the cake and leave to soak. Then, spread the icing evenly on the cake.
02. Butter is a natural product and adds a beautiful flavour to any baking product. It also acts as a flavour carrier and brings out flavours in any dish.