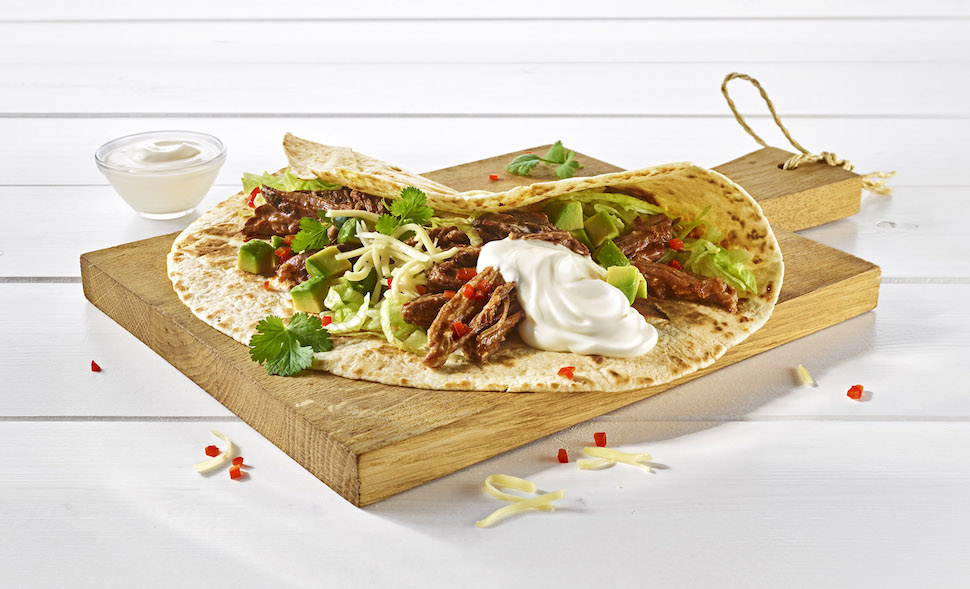 Ingredients
1.5 kg beef brisket
4 g garlic
10 g fresh oregano
15 g chilli powder
10 g fresh coriander
1 red onion
250 ml tomato purée
300 g sour cream sea salt pepper
10 wheat flour tortillas
1/2 iceberg lettuce
1 avocado
1 red pepper
Italian parsley

Instructions
Preparation
Peel onion and slice in rings. Peel clove of garlic and crush. Wash Italian parsley and pat dry. Remove the outer leaves and stalk from the iceberg lettuce. Cut in quarters and then finely slice into chiffonade. Wash in a colander in cold water and pat dry.
Wash tomatoes. Wash peppers and chop into cubes. Peel avocado and dice. Grate the Oldenburger Gouda.
Rub the beef brisket with the herbs and spices and leave to marinate for a few hours.

Preparing the Meat
Add the sliced onion rings and beef brisket to a casserole dish, then add the tomatoes, season with salt and pepper and braise for approx. 10 hours at 100 °C. Pull the meat apart with two forks, mix with some of the meat juices and keep warm.

Preparing the tortillas
Splash tortillas with water and heat in a pan. Heating in an oven may result in the tortillas drying out rather quickly. Make sure you cover them if you heat them in an oven. Place the warm tortilla on a plate or board and add lettuce, avocado and pulled beef.

The Final Touch
Top with sour cream, chopped peppers, parsley and grated Oldenburger Gouda and serve.

Tips from Chefs to Chefs

01. Instead of beef brisket, you can also use a different braised meat like pork shoulder or chicken leg. The cooking time should be shortened.
02. Try adding the grated cheese to the tortillas while still in the pan instead of sprinkling it as a topping. The cheese starts melting – making the burrito all the more delicious.