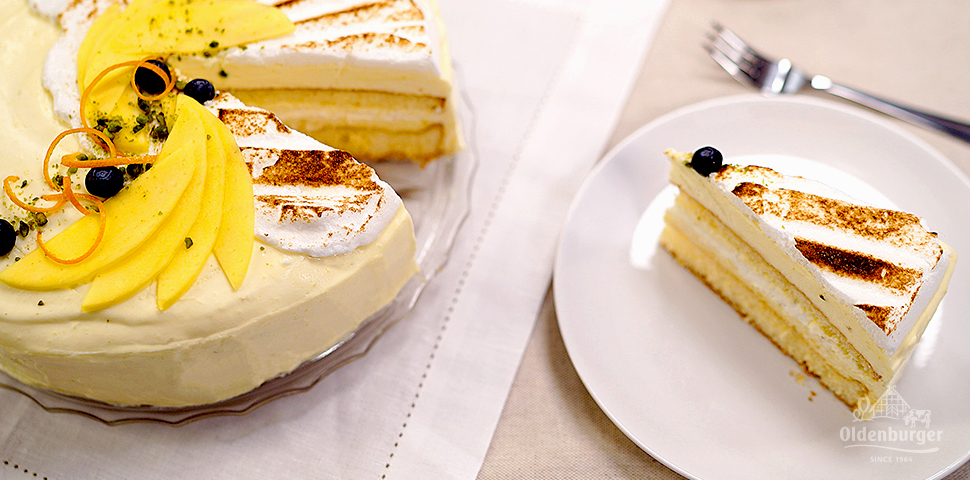 Ingredients
For the Sponge Cake
4 eggs
salt
1 sachet vanilla sugar
100 g sugar
120 g plain flour
1 tbsp baking powder
For the Mango Cream
2 egg whites
12 sheets gelatine (halal)
3 mangos
4 tbsp lemon juice
90 g sugar
3 tbsp marmelade (e.g. orange and passion fruit, or similar)
a handful of berries, orange peel and pistachios
Instructions
Preparation
Preheat oven to 180 degrees (fan oven 160 degrees, gas mark 3). Separate eggs. Line the base of the springform tin with baking parchment. Peel mangos and cut in wedges. Chop pistachios.
The Cake Layers
Beat egg whites and salt with a hand mixer until stiff. Gradually add vanilla sugar and sugar and continue to beat until sugar has dissolved. Stir in egg yolks. Mix flour and baking powder and gently fold into the dough. Pour dough in baking tin, spread evenly and bake for approx. 25 minutes until golden brown. Leave the sponge to cool completely on a cooling rack, remove from tin and cut through horizontally.
The Cream
For the mango cream, soak the gelatine in cold water. Purée 2/3 mango, lemon juice and sugar. Leave aside a few mango wedges for decorating. Squeeze gelatine and melt in a pot (do not boil). Stir 2 tbsp mango purée into the gelatine. Mix gelatine-mango mixture into remaining mango purée and put into the refrigerator.
Beat 600 g Oldenburger SHANI Whipping Cream with a hand mixer until stiff. As soon as mango mixture begins to set, fold in whipped cream. Remove 1/4 of the mango cream and keep at room temperature.
Preparing the Tart
Place the bottom layer of sponge in a cake ring. Spread the bottom layer with marmalade and half of the mango cream. Place the second layer on top, spread with remaining mango cream. Leave tart to set in the fridge for at least 3 hours.
Then, beat the single egg white with 10 g of sugar until stiff.
The Final Touch
Spread the egg white freestyle with a palette knife and flame off. Decorate with mango slices as preferred. Chill tart again and serve within 3 hours of decorating with fresh mango.
Tips from Chefs to Chefs

01. Cream should always be refrigerated well before whipping. For best results use a chilled mixing container. If you wish the whipped cream to stay firm even longer, a cream stabilizer can be added during whipping.
02. Butter gives a wonderful taste to any baking products.