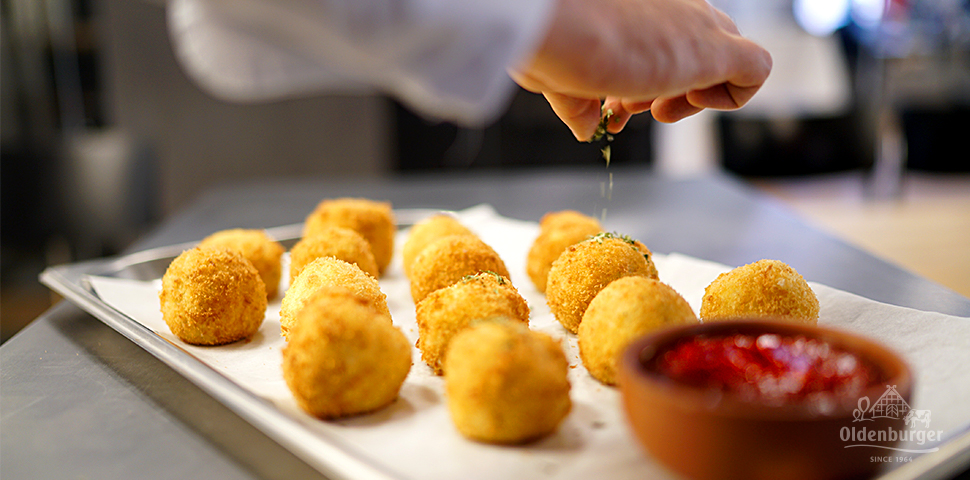 Ingredients

For the rice balls:
500 g rice

2 eggs
2 tbsp flour
5 tbsp bread crumbs
frying oil
sea salt
For the Salsa:
2 tomatoes
1 onion
4 fresh chilis
80 g brown sugar
1 clove garlic
100 ml rice vinegar
50 ml water
30 ml soy sauce

Instructions
In Italy, fried rice balls are called arancini. The tasty recipe originates in Sicily where it is a much loved traditional street food. Fried rice balls are easy to prepare in advance – and can be deep fried on the spot. They have a wonderful juicy texture and can be served with different sauces to your individual liking.
These juicy rice and Gouda cheese balls are gently fried in vegetable oil and served with a zesty, spicy sauce

Preparation
Grate the Oldenburger Gouda coarsely. Beat one egg. In a large pan, heat the oil. Cut the tomatoes, onions, garlic and the chilis in very small cubes.
Preparing the Spicy Salsa
Stir-fry the tomatoes, garlic and onions. Add sugar, soy sauce and simmer for a while. Mix the starch with some cold water and put it into the salsa. Let it boil till thickness.
Cover rice and a pinch of salt with water, bring to the boil and simmer on very low heat for approx. 20 minutes. Remove rice from the pot and leave to cool a little. Then mix with grated cheese and one egg. Leave mixture to cool for 30 minutes.


The Frying Coat

Moisten hands and form small balls. Roll balls in flour, then in egg mixture and coat with bread crumbs. Fry rice balls in hot oil for approx. 5 minutes until they turn a golden brown.


The Final Touch
Serve the rice balls with the homemade spicy salsa.

Tips from Chefs to Chefs

01. Real Cheese has excellent melting characteristics and can be used for gratinated toppings very successfully. It also binds ingredients when melted as in this recipe giving flavour at the same time.
02. The higher the fat content, the better the cheese will melt. Oldenburger Gouda is comparatively high in fat.