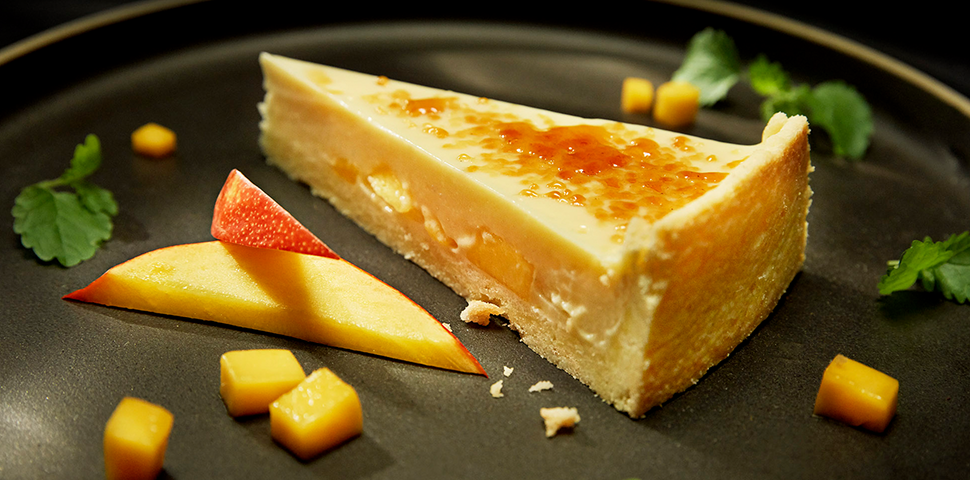 Ingredients
50 g sugar

2 g salt

300 g flour

300 g flour

200 g mango purée

100 g mango cubes


30 g raw cane sugar fresh herbs (e.g. shiso)
Instructions
Preperation
W
ork the sugar, salt, Oldenburger Butter and flour into a smooth dough. Shape it into a ball and refrigerate for about half an hour. Butter a springform pan or tarte mould about 30 cm in diameter. Roll the dough out thinly and place in the pan or mould. Cover with baking paper and fill with dried peas or lentils or a similar product. Blind-bake the dough in a preheated combi-steamer at 170°C with dry heat for about 15 minutes. Let the baked dough cool.
Making the Crème Brûlée
Heat the Oldenburger Crème Brûlée together with the mango purée in a pot to 70°C while stirring the mixture. Spread the mango cubes on the cooled tarte base. Spread the heated crème brûlée mixture on top and refrigerate for at least three hours.
The Final Touch
Sprinkle the finished tarte with sugar and caramelise with a blow torch.
Tips from Chefs to Chefs
Spread a mixture of sugar and whipped egg white on top, then caramelisewith a blow torch.