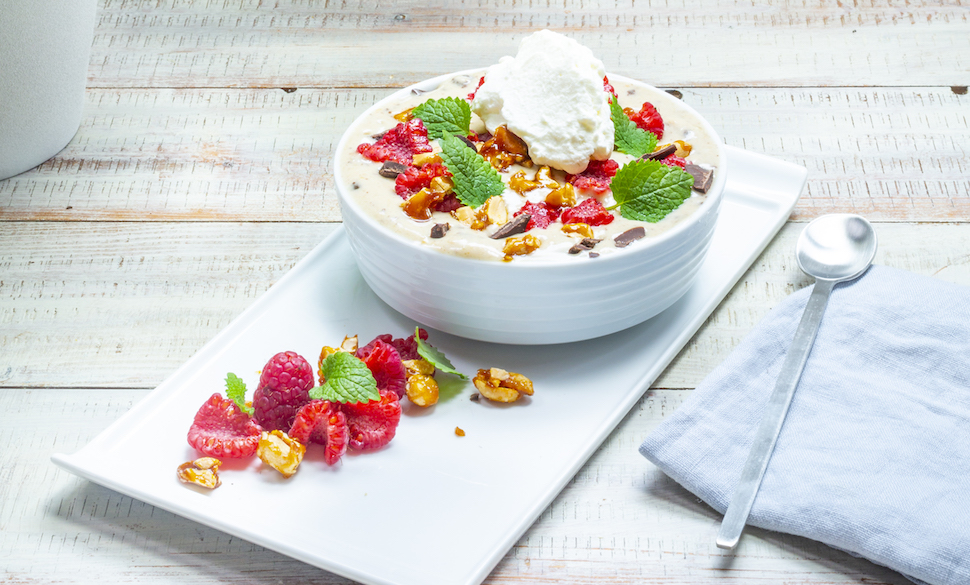 Ingredients
4-6 bananas (about 600 g)
250 ml Banana Flavoured Milk
80 g powdered sugar
8 tbsp peanut butter, chilled
1 pinch of sea salt
100 g dark chocolate
60 g peanuts
3 tbsp sugar
100 g raspberries
Instructions
Preparation
Peel the bananas, cut into slices and freeze overnight. Roughly chop peanuts. Wash raspberries, drain and shred into small bits. Roughly chop the chocolate.
The Caramelized Peanut Topping
Heat the sugar in a pan and let the peanuts caramelise in it, then allow to cool on a flat tray.
The Cream
Whisk Oldenburger SHANI Whipping Cream in a bowl until stiff using the whisk of a hand mixer, then chill.
The Nicecream
Let bananas thaw slightly and puree in a tall container with Banana Flavoured Milk, powdered sugar, peanut butter and a pinch of salt. Add the chocolate and mix it into the nicecream.
The Final Touch
Garnish nicecream with peanuts, raspberries and stiff Oldenburger SHANI Whipping Cream.

Tips from Chefs to Chefs

01. If you prefer a sweeter taste, you can slowly drizzle cold caramel sauce into the nicecream for a nice marbled pattern.
02. For optimal quality refrigerated storage is recommended. Especially before whipping Whipping Cream should be stored in the refrigerator to obtain optimal whipped cream. The mixing bowl should also be chilled before use.