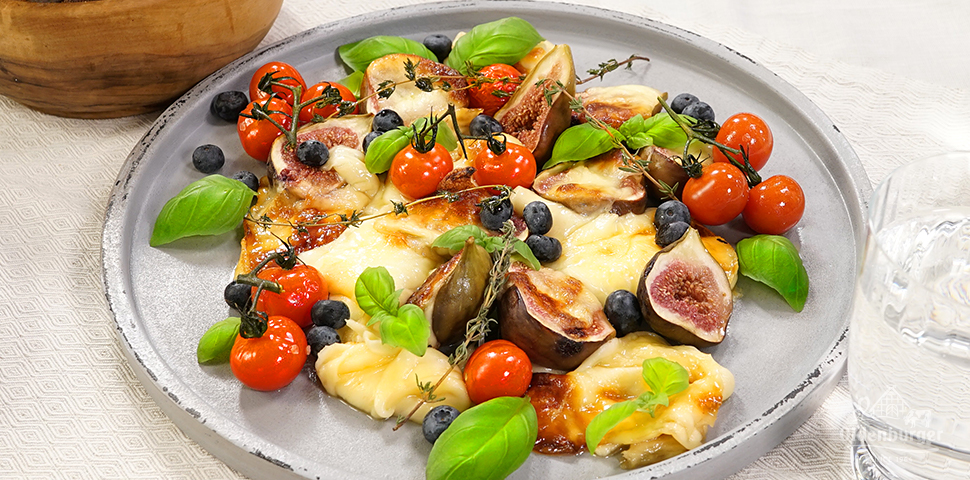 Ingredients
cocktail tomatoes
10 figs
5 tbsp honey
1 lemon
150 g blueberries
a bunch of basil
a few sprigs of thyme
80 ml olive oil
Instructions
With this starter, you're welcome to dine with your hands. Take the freshly baked bread and add the roasted mozzarella, blueberries, baked tomatoes and fresh herbs. The ingredients add up to perfect harmony. The sweetness of the fruit and the melted cheese go exceedingly well together.

Preparation
Wash the cocktail tomatoes, blueberries, basil, thyme and pat dry. Halve the lemon, squeeze the juice out and set aside. Preheat the oven to 180 °C.
The Mozzarella
Place the diced Oldenburger Mozzarella in a container and put in the preheated oven for approx. 10 minutes.
The Figs
Halve the figs and scatter them on a tray, sprinkle honey over them and bake in the oven for 10 minutes.
The Tomatoes
Put the tomatoes, thyme, garlic, sea salt and ground black pepper on a baking tray, sprinkle with olive oil and put in the oven for about 8 minutes.
The Salad
On a serving plate, spread the baked figs, confectioned tomatoes, fresh herbs, blueberries and melted mozzarella.
The Final Touch
Collect the olive oil from the tomato tray and sprinkle over the salad with the lemon juice. Serve with freshly baked baguette.
Tips from Chefs to Chefs

01. Due to its short maturing time, Mozzarella is a fresh tasting type of cheese. It is produced by kneading and subsequent brewing and then spun thus gaining its characteristic fibrous texture.
02. Genuine Cheese is a good source of protein and can be used in vegetarian dishes.

03. You will get a better result with the tomatoes if you confit them at a low temperature (70°C will be perfect) and more time, like 20 minutes.