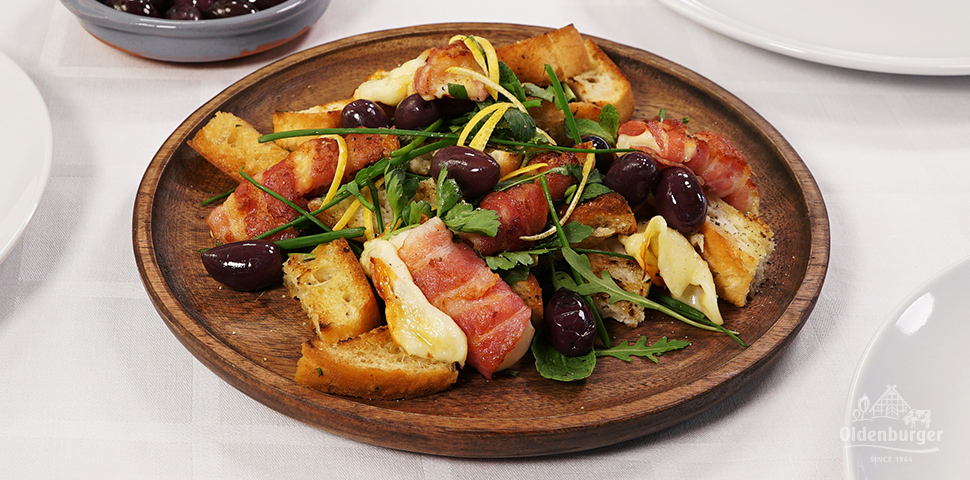 Ingredients
1.5 kg ciabatta
400 g bacon, in stripes
100 g black olives
10 handfuls mixed fresh herb salad (rocket, parsley, chives, basil, chervil, mint)
2 sticks fresh rosemary
2 garlic cloves
For the Dressing
1 lemon

10 tbsp olive oil

freshly grounded black pepper

sea salt
Instructions
This dish has a delicious smokey note, which goes great with the mild mozzarella cheese and the fresh wild herb salad.
Preparation
Cut the ciabatta into chunks. Wash the wild herbs and pat dry. Cut the Oldenburger Mozzarella into sticks (approx. 1.5 cm x 4 cm) and wrap around the bacon. Grate off the zest of the lemon. Preheat the oven to 180 °C. Peel the garlic and cut finely.
The Salad
Spread the wrapped mozzarella, the ciabatta chunks, the garlic and rosemary on a tray and put into the preheat oven for approx. 10-15 minutes.
The Dressing
Halve the lemon and squeeze out the juice. Season with salt and freshly ground black pepper and mix it with olive oil.
The Final Touch
Mix up the roasted ciabatta with the bacon-mozzarella rolls, herb salad and the fresh dressing and serve handwarm.

Tips from Chefs to Chefs

01. Due to its short maturing time, Mozzarella is a fresh tasting type of cheese. It is produced by kneading and subsequent brewing and then spun thus gaining its characteristic fibrous texture.
02. Real Cheese – as opposed to analogous cheese – makes all the difference when melted cheese is asked for. It has a superior taste and excellent melting qualities – and tastes great even when cooling down. Real cheese is made from fresh cow's milk with no added flavourings. It is a highly valuable grocery and part of a health conscious diet. Cheese is an excellent source of protein and high in calcium and vitamins A, B2, B12 and D.